Song Book Printing
Now you can print your own song books in a variety of formats with the Visual Song Book Printer program. This simple-to-use program reads the songs from any Visual Song Book database and prints them directly to your printer.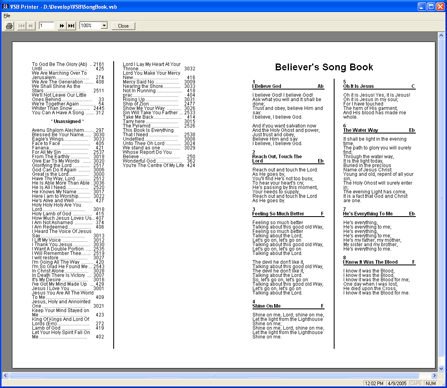 Print Preview
| | |
| --- | --- |
| • | Print: Enabled only in the Print Preview mode. Allows selected pages to be printed. |
| | Print Preview: Displays the songs contained in the song book as they would appear when printed. This menu item is enabled once a song book database is open. |
| | Page Setup: Opens the Page Setup dialog box to allow the printed format of the song book to be changed. This menu item is disabled in the Print Preview mode. |
The format of the printed pages can be customized by modifying print display properties.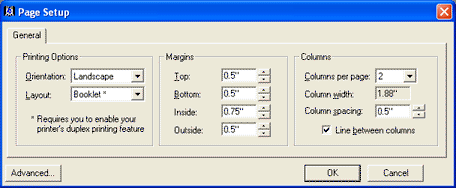 The printed song book is divided into four sections as follows:
Songs
Category Index
General (alphabetical) Index
Numeric Index
You have the option of printing all or some of these sections, including a customizable title for each one.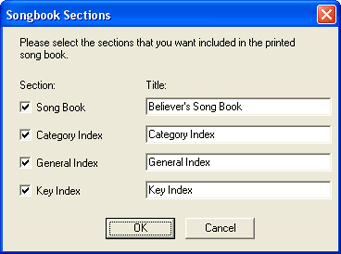 Once you have downloaded and installed the program, these are the steps to print you very own song book:
Open the song database using the Open Folder icon or File - Open from the main menu.
Select File - Page Setup to select the format of the printing.
Click the Print Preview toolbar button. Select the sections and edit their titles. Click the OK button and wait for the Print Preview to display.
Browse the pages using the arrow toolbar buttons and/or select the Print toolbar button to print the pages.
To change the page layout once in Print Preview, click the Close toolbar button and repeat from step 2 above.